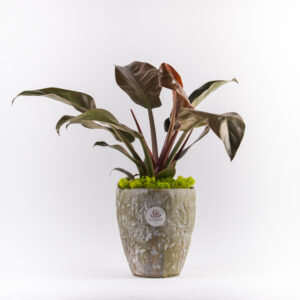 Potted Imperial Philodendron | فيلوديندرون الأحمر
Potted Imperial Philodendron | فيلوديندرون الأحمر
750.00QAR
Philodendron Imperial.
Featured snippet from the web.
Philodendron Imperial Red…. Many philodendrons are climbers, but an Imperial Red is called a self-header. The glossy, bright green and red oval shaped leaves are spaced very close together on a single stem. This stiff, barely visible stem, keeps an Imperial Red Philodendron upright and elegant looking as it matures.
Length: 35cm
Occasion: Suits any occasion
فيلوديندرون الأحمر
"فيلوديندرون امبريال
مقتطف مميز من الويب
فيلوديندرون امبريال ريد. … العديد من فيلوديندرون هم متسلقون ، لكن الأحمر الإمبراطوري يسمى رأس ذاتي. تتقاطع الأوراق ذات الشكل البيضاوي اللامع والأخضر الفاتح مع بعضها البعض على جذع واحد. يحافظ هذا الجذع المتيبس بالكاد على مظهر أحمر أحمر Philodendron منتصب وأنيق عندما ينضج"
الارتفاع: 35سم العرض: 35سم طول: 35سم