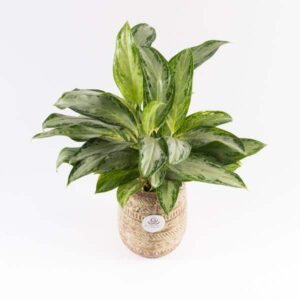 Potted Evergreen | بوعاء الخضرة
Potted Evergreen | بوعاء الخضرة
400.00QAR
بوعاء الخضرة
تُعرف Silver Queen ، المعروفة على نطاق واسع بالمعيار الذهبي للنباتات دائمة الخضرة الصينية ، بأنها الأكثر انتشارًا والأكثر شيوعًا. نقش أوراقها كريم على قاعدة خضراء داكنة ، وتزدهر في ظروف الإضاءة المنخفضة إلى المتوسطة.
الارتفاع: 35سم العرض: 25سم طول: 25سم
Known far and wide as the gold standard of Chinese evergreen plants, Silver Queen is probably the most widespread and commonly-grown variety. Its leaf patterning is cream on a dark green base, and it thrives in low to moderate lighting conditions.
Length: 25cm
Occasion: Suits any occasion