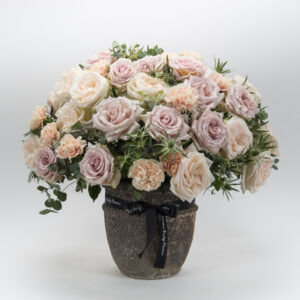 Jardin Des Senteurs Grand | حديقة الروائح جراند
Jardin Des Senteurs Grand | حديقة الروائح جراند
2,500.00QAR
An explosion of Scents Amorous O Hara roses with a hint of a pastel roses amazingly beautiful and whimsical.
The Grand is much fuller of roses and wider.
Flowers are a product of Nature & occasionally exact varieties and colours are unavailable. Our florists will create your arrangement with the closest available colour palette and in a similar style.
Length: 55cm
Occasion: Suits any occasion
حديقة الروائح جراند
انفجار الألوان من الحدائق الفرنسية، الزهور هي نتاج الطبيعة وأحيانًا لا تتوفر أصناف وألوان دقيقة. سيعمل بائعو الأزهار لدينا على إنشاء ترتيبك مع أقرب لوحة ألوان متاحة وبنمط مماثل.
الارتفاع: 65سم العرض: 55سم طول: 55سم