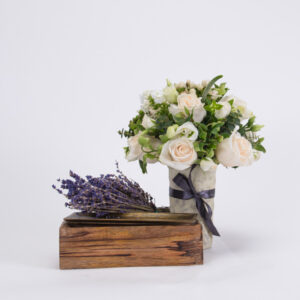 Boxful Lavanders 2 | 2 صندوق الخزامى
Boxful Lavanders 2 | 2 صندوق الخزامى
750.00QAR
Boxful Lavenders.
Handcrafted Mango wood box with brass top will surely add a treasure to anyone's delight, what more if you have it full of lavender. Plus Flower in a vase.
This set comes with
1 Brass Top Wooden box.
1 bunch lavender and inside half full of lavender.
1 small vase with flowers.
Length: 15cm
Occasion: Suits any occasion
2 صندوق الخزامى
"بوكسفل لافندر.صندوق خشب المانجو المصنوع يدويًا مع الجزء العلوي من النحاس سيضيف بالتأكيد كنزًا إلى فرحة أي شخص ، وماذا أكثر إذا كان لديك مليء بالخزامى. بالإضافة إلى زهور في إناء.هذه المجموعة تأتي مع
1 صندوق خشبي علوي نحاسي.
1 حزمة لافندر وداخل نصف مليء الخزامى
1 مزهرية صغيرة بالزهور."
الارتفاع: 15سم العرض: 10سم طول: 15سم